by Allison Williams
"It takes a minute to find a special person, an hour to appreciate them, and a day to love them, but it takes an entire lifetime to forget them."  – Anonymous
We all have special people in our lives, some who are with us in the present and others who are in our hearts. Many couples like to find a way to "bring "their lost loved ones with them on their wedding day, whether it's through bringing pictures, wearing jewelry or simply carrying memories.
1 – Photos
When I got married, I wanted to make sure that we honored our family members who could not be there with us. I definitely felt them there in my heart. I framed photos and came up with a short poem to display at the reception:
Forever in our hearts
You have never gone away
You are here with us in spirit
To share our special day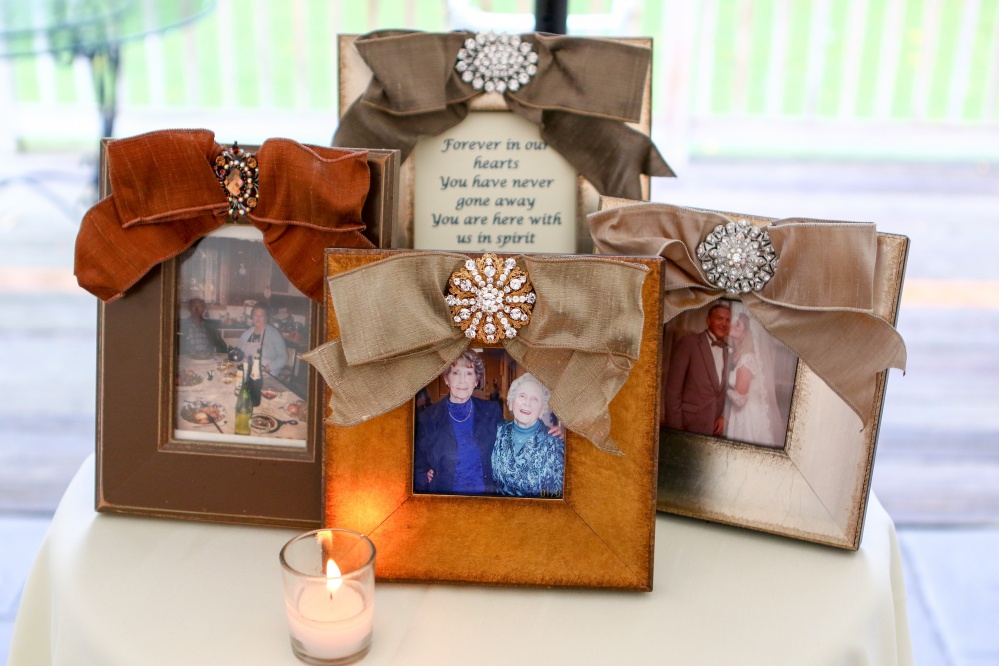 This way of remembering those we lost is a popular wedding idea. Sometimes couples have photos scattered about the reception area, on tables or even hanging, while others go all out and create an entire display dedicated to lost loved ones. I have also seen brides who hang a smaller photo on their bouquet so they can carry the photo with them. There are endless ways to include photos in your wedding.
2 – Jewelry
Sometimes couples like to incorporate their loved ones into their wedding in a more subtle way. They will wear watches, earrings, bracelets, etc. that either previously belonged to their beloved or they may have been given the jewelry before their passing. One personal idea that I also happen to love is "wearing" my grandmother on my heart. Some of her ashes were placed inside a heart-shaped pendant necklace and given to me. I'll always have a piece of my grandma, Moppie in my heart.
3 – Ceremony Program
Another way to honor a loved one at your wedding is to create a section in the ceremony program called, In loving memory. This will ensure that the guests can see in the program those you have at your wedding in spirit. For some a simple name printed somewhere in the program will do and for others, there may be a name and relationship to couple printed.
Ex: Moppie, aka Peggie
Bride's grandmother
4 – Candle
A simple candle can be an exceptionally strong statement. It adds an elegant touch as well. Lighting a candle to place at the alter, at the cake table or even at the dinner table is a special way to honor loved ones. A burning candle can be a symbol that they'll always be with us. It is a symbol of remembrance.
5 – Toast
As we all are aware, toasts are common at weddings, whether it is a toast to the couple getting married, a toast to begin the reception, or a toast to take a moment and remember those who couldn't be there. Dedicating a special moment, by pouring a particular drink that a lost loved one enjoyed or just having someone share a memory of his/her beloved, are examples of how to link a toast to a loved one.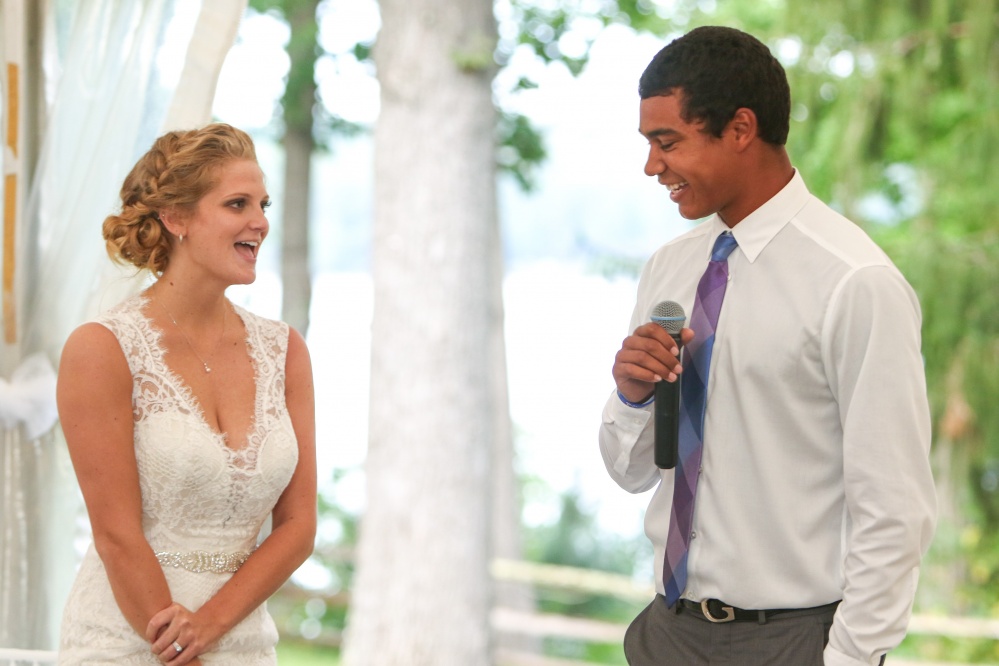 6 – Save a Seat
What better way to honor someone than to reserve a seat for them at the ceremony? A rose in the chair, a baseball cap, a bouquet of flowers, a watch, a favorite book, etc… The list goes on. There are endless ideas of how to decorate a memory chair for those you cherish.
7 – Moment of Silence
When we take moments and pause life briefly, it allows us the opportunity to remember. At the start of a wedding ceremony, some couples dedicate a moment of silence to those who couldn't be present. This is another subtle, yet powerful way to reminisce.
8 – Family Heirloom
I recently attended a wedding and witnessed something beautiful. The bride walked down the aisle carrying not only her beautiful bouquet of flowers, but also in her same hand she gripped a small bible. It was a personal, sentimental memory she held close to her throughout the ceremony. This type of memory can be so special. She and her husband will have a lifetime of photos with the bible in hand to share with each other.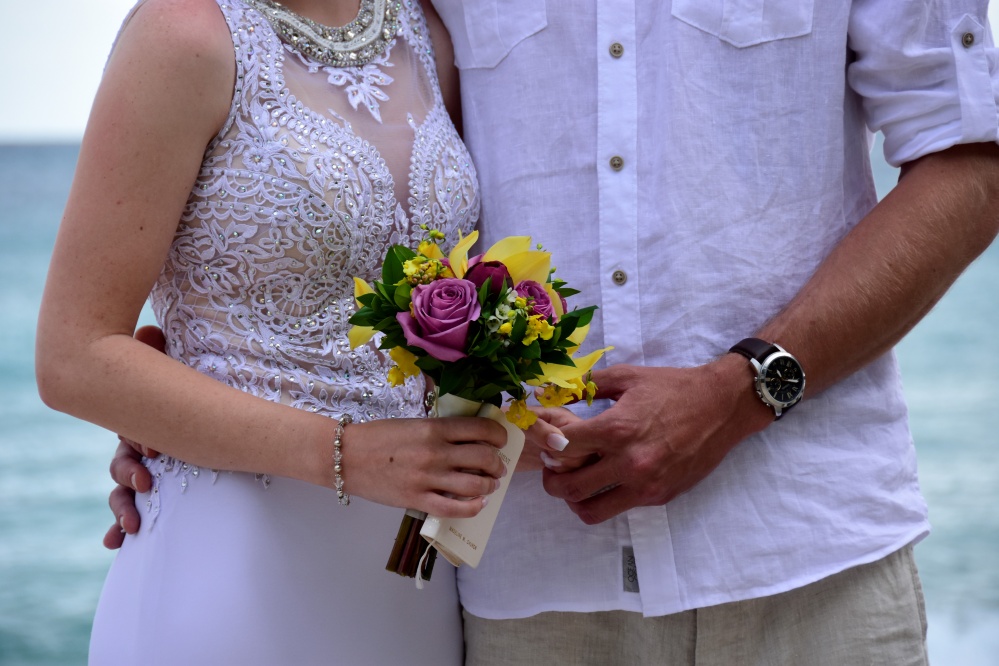 9 – Balloons
When I was young, I lost a dear friend. One way I coped was by writing letters and attaching them to balloons. Each time I let go of the balloon and let it fly high into the sky, it made me feel a little better. I was always at peace knowing my friend would be receiving my balloon very soon.
Setting aside time to gather everyone together for a special cause is another way to incorporate lost loved ones in the wedding.  As I mentioned above, an idea that stands out to me is a balloon release. For wedding purposes, sometimes this is done during the ceremony, other times during the reception. It also presents an incredible photo opportunity. (Please note, due to the proximity to the ocean, these are not recommended in the islands). 
10 – Play a Song
We all have songs that carry a special meaning to us. Maybe there is a song that always makes you think of your lost loved ones. Have this song played at the wedding and allow the dancing to be a way to remember and honor your beloved.
No matter how we choose to remember our loved ones in life, they will always be with us one way or another. By remembering them, we are honoring the amazing life they lived.