St. Thomas Beer Burros
You may not know this about me, but until recently, I was the owner of Glamorass Ranch, a beer burro business in South Florida. Haven't heard of a beer burro?
Also known as wedding burros, beverage donkeys, or "the best guest at your wedding", beer burros are very popular at weddings across the South and Southwest. I discovered them when I was planning my wedding way back in 2004 and ever since I teased my husband relentlessly about moving West and having a miniature donkey farm. When Irma temporarily relocated us to Florida, I set out to make that dream a reality and had so much fun with my "Glamorass Girls": Grace Kelly, Coco Chanel, and Audrey Hepburn.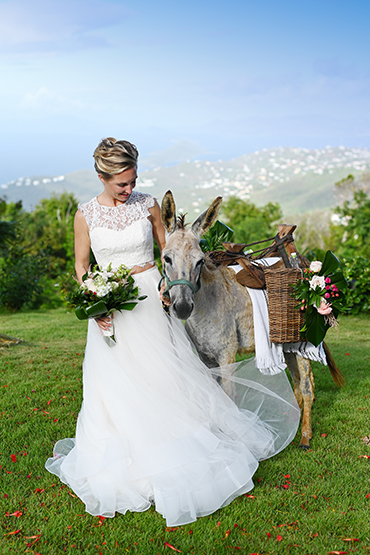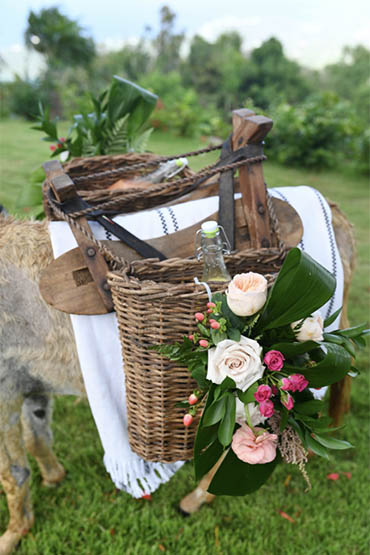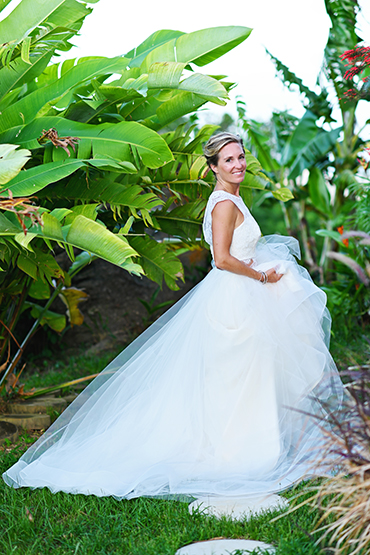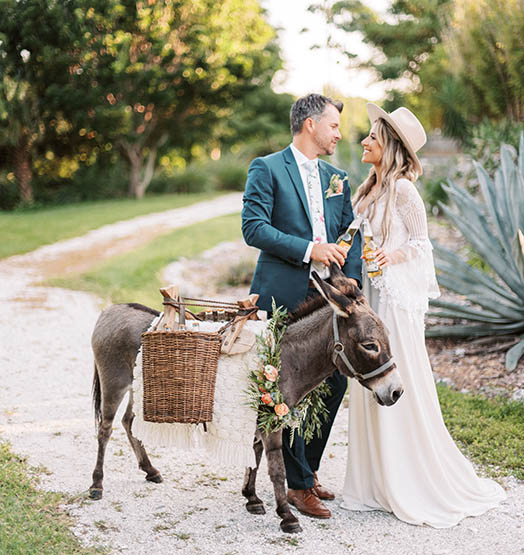 We had so much fun promoting them that we garnered some amazing photos. The truth is, beer burros are more about the awesome photos you can take with them, more so than serving beers; an experience your guests will never forget. This one photo (left) of my Gracie with a beautiful bride & groom was a "pinch me" moment. Seeing my dream come to life is such a wonderful feeling.
Unfortunately, when Covid started shutting down weddings across South Florida, we had to close up shop. But I had a comment on one of my Instagram posts and when I clicked on the user's profile, I was kind of stunned to see someone in St. Thomas…with two donkeys! Ashley and I chatted back and forth about the beer burro business.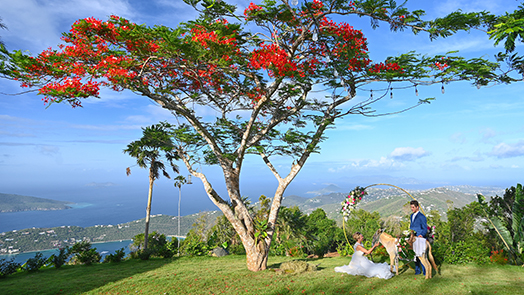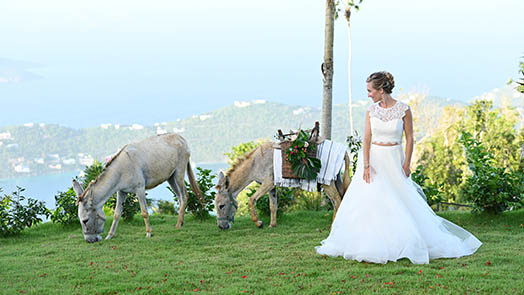 It wasn't feasible for me to bring my donkeys to St. Thomas but I was definitely happy to help her with the idea of starting her own service. It just so happens that her property at the top of the mountain is the perfect location for a small wedding or welcome party, where you can have the donkeys right there, walking amongst your guests, taking photos, and serving up cold ones.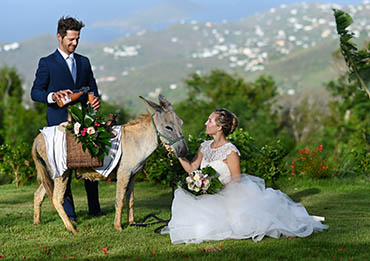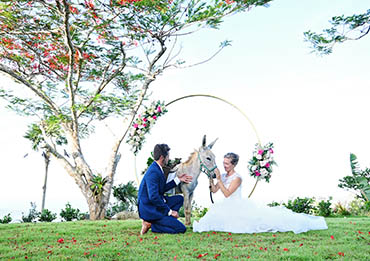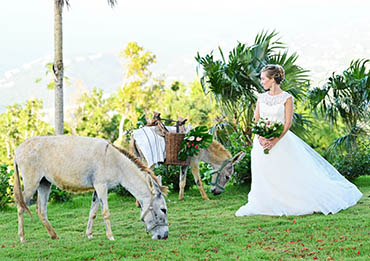 Luciano & Lettie are just the sweetest St. Johnian donkeys. Having never been trained before, they did an excellent job. Luciano had no problem with us putting the pack saddle and baskets on his back. It was so great working with donkeys again. I have missed being around these gentle animals. We hope that we'll be able to offer a beer burro service for St. Thomas weddings and other events in the Virgin Islands. We're working on the details of transporting the donkeys to different locations but for now, I think hosting a small wedding or welcome party here is a wonderful idea. You can't beat the views up here.