By Allison Williams
We all like keepsakes in life. Some of us have memory boxes while others have a memory corkboard that grows and grows. Guest books are a common keepsake item at weddings, but people are coming up with new and different ideas of how to have guests "check in" at their wedding. Below are six ideas of how you can get creative with your guestbook.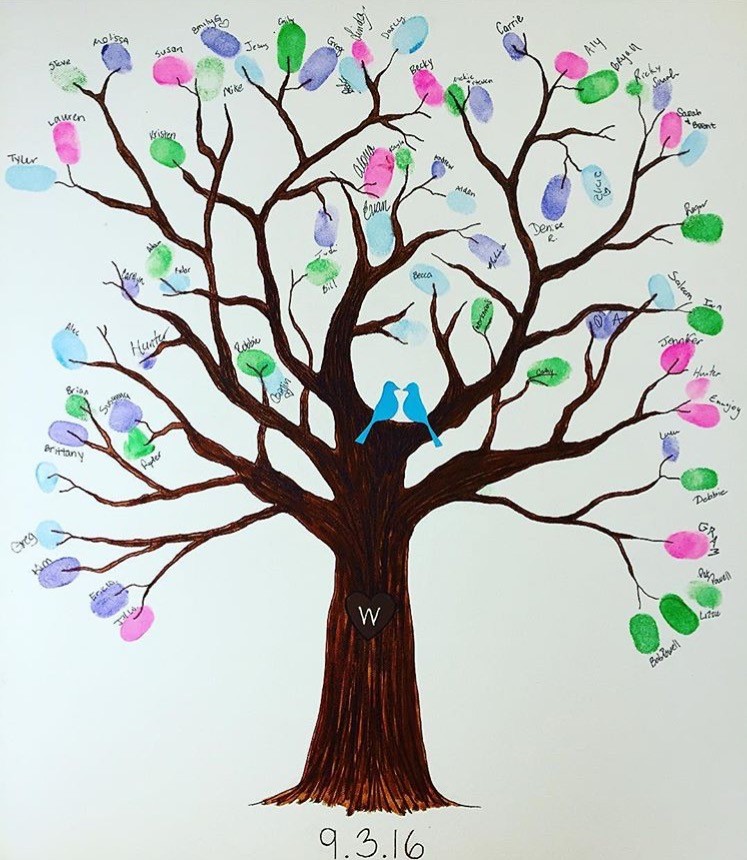 Thumb Print Tree
I'll start with my wedding. Although I did have a traditional guestbook for our wedding guests to sign, I also created a thumb print tree. I bought a thin canvas board and had my artsy sister draw a leafless tree. Then I chose washable (washable is important) stamp pads and instructed guests to create a thumb print leaf to sign and add to our wedding tree. Extra things to keep in mind:
Make sure your stamp pads are washable. Your guests will not want colorful thumbs all evening!
Leave wipes or create a cleaning station for everyone to wash their hands after they leave their thumbprint.
If you are getting married here in the US Virgin Islands, create a palm tree!!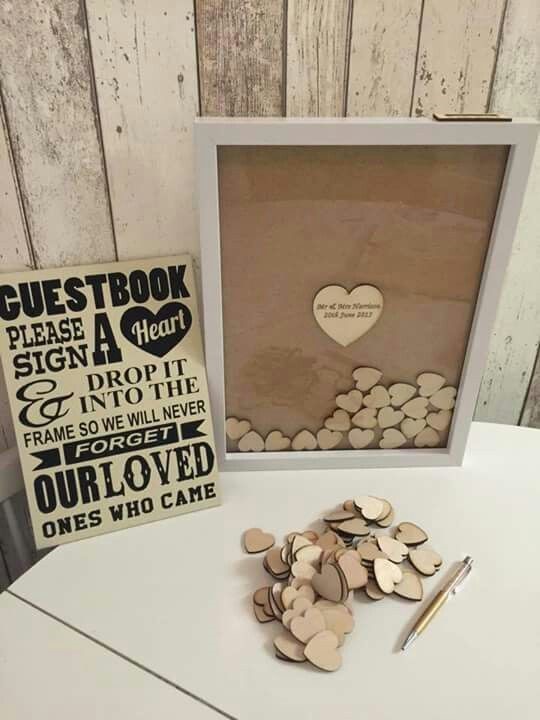 2.      Sign a Heart
A wedding my husband and I attended about two years ago had a unique guestbook idea that I loved. The bride got the idea online, then created it. It was a shadowbox heart photo frame. She created a wooden shadowbox with a glass front. At the top was an opening to slide small wooden hearts into. Each person signed a heart and dropped it inside. This fun idea is a great way to look back and remember those who shared your special day with you.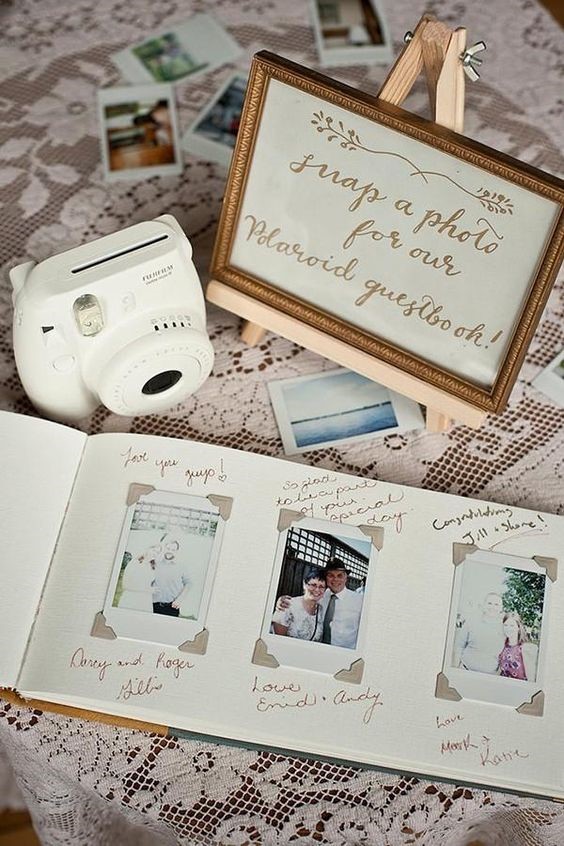 3. Polaroid guestbook
These days, people are all about photos, photos, photos; so why not incorporate pictures into a traditional style guestbook? Have everyone at your wedding pick up a Polaroid camera you have already set up at the wedding and snap a selfie or family photo. This type of camera prints out the photos right away, then your guests can let the pictures develop and place them into a guestbook and sign below. It is like a visual guestbook! How fun. We have Polaroid cameras that we offer for any of our couples to use on their big day. All you have to do is bring the film!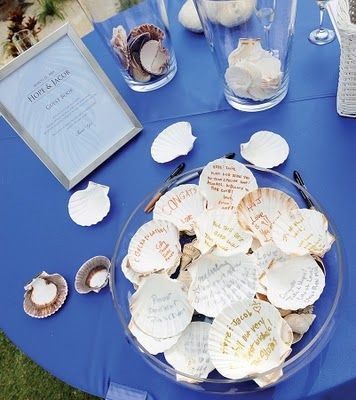 4.      Seashells
What better way to create a unique guestbook than to tie it into a beach-themed guestbook? I mean, we are in the Caribbean after all! One idea that I absolutely adore for a beach wedding is to ask your guests to sign a seashell. The idea is to sign a shell/write a nice message to the couple, then place it in a basket, vase, etc.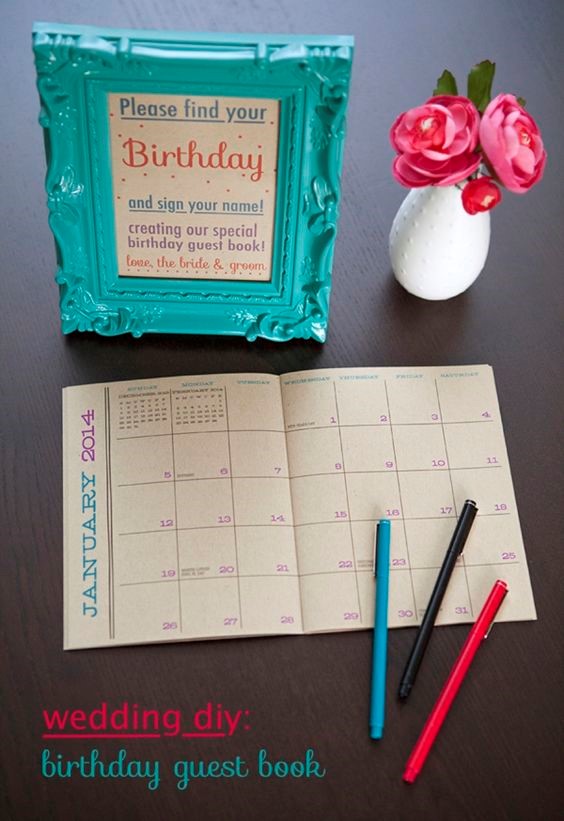 5.      Birthday Calendar (Janelle had never heard of this idea before!)
Creating a birthday calendar is brilliant! By asking your guests to find their birthday and sign in the calendar, you are getting all the names and birthdays of your special guests for you to hang in your home the following year. You will now have the names and birthdates of all your family and friends in one spot. Never miss a birthday again!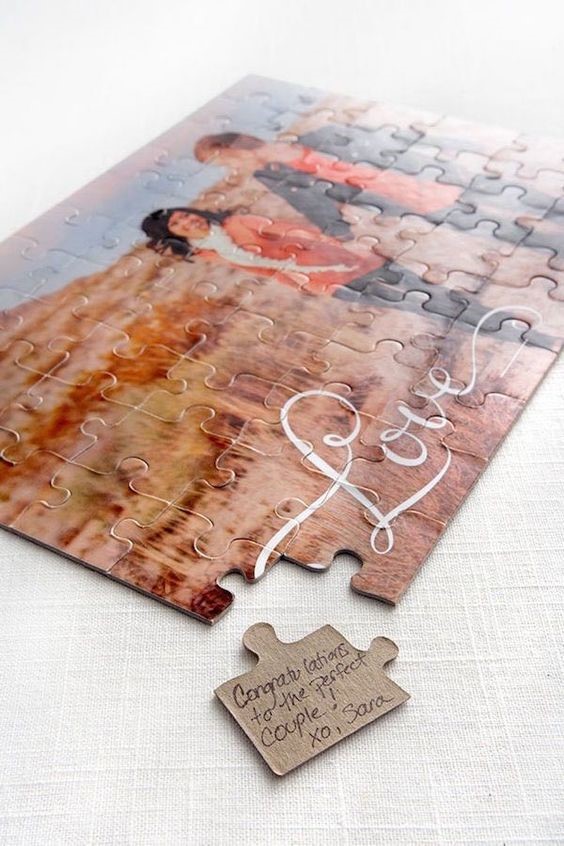 6.      Puzzle Pieces
I knew that for my wedding, we just had to incorporate a puzzle somehow. We ordered a photo of the two of us and had it shipped to our house. We then created for each guest a puzzle piece, name tag and table number. Each guest found their name with table number, and then placed theirs onto the puzzle board. How can we take the same idea, but use it for a guest book alternative? Easy! Order your puzzle like we did, then get a basket or something similar and dump the assorted puzzle pieces in. Ask your guests to each take one and sign the back!
These are just a few of many ideas to create a unique guestbook. You can find fun, easy ideas that fit your wedding theme or style!
– Images from Pinterest