Last March I flew out to Vegas to celebrate my friend Erin's bachelorette party. Erin was married at Sand Dollar Estate just last month. Check out this amazing video from Nazareth Road Productions:

Sand Dollar: Erin and Jarrod from Nazareth Road Productions on Vimeo.
I 100% admit to crying to the video when I saw it. And so did my husband. Such saps!
But back to my main point. Erin's bachelorette party was epic! I love Vegas and I love bachelorette parties. The combo can't be beat. I remember flyng out and talking to the guy next to me on the plane that left St. Thomas. And of course the topic of "what do you do for a living" comes up followed shortly after by "where are you heading?". When I said I was a wedding planner and heading to Vegas for a bachelorette party, he was astonished at my full services from bachelorette party to I do's! 🙂 I had to laugh. I'm not sure my body could handle attending each of my brides bachelorette parties but I'd like to try!
One of my favorite elements of the bachelorette party is the matching t-shirts. I took responsibility for Erin shirts and I used www.bridalpartytees.com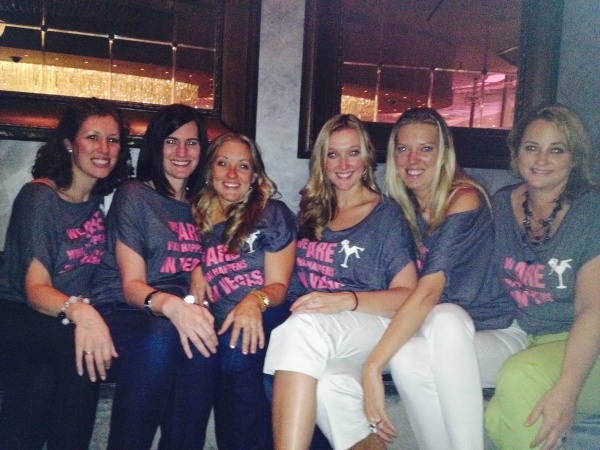 I can not say enough good things about their services! It is so easy (and fun) to design the shirts on their website, add graphics, something to the back, etc. There are tons of different style shirts and colors. The best thing though is their customer service. When the shirts arrived, there seemed to be some discoloration on some of the shirts from the printing process. I emailed them to let them know and the rushed a new order by FedEx (which is international pricing to St Thomas – not cheap for them!). I was really so very impressed by them – this is an honest review, I'm not being paid or receiving any incentives for my review. I would 100% use them again for another event.