I had the pleasure last week of meeting with the owners of the newly built Outrigger House. This vacation villa on St. Thomas is perfectly built for a wedding ceremony & reception. There is a spacious outdoor deck that is also covered in the event of rain. It has a gorgeous view over the Charlotte Amalie Harbor, which is a lovely view at night when the town is all light up.
Could you imagine anything better than relaxing in this pool the day after your wedding?!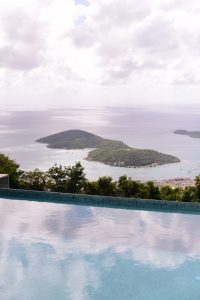 I'm excited to go back up here on Thursday with a potential client. I love being able to see the property through the brides eyes. If you'd like to view the Outrigger House as a potential ceremony & reception site, please let me know!