John & Jessica brought a photographer from home who captured this on their ship (Royal Caribbean's Adventure of the Seas).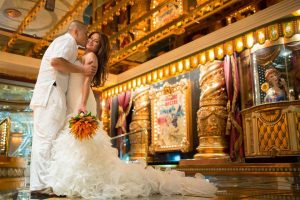 I love it! I recently received a note from the newlyweds. These kind of notes put the biggest smile on my face!
I just wanted to take the time to thank you for such a wonderful execution of our wedding day.  It was absolutely perfect!  The weather was perfect, the setup was just what I had imagined, the waters of the beach were as blue/turquoise as I had hoped.  I liked my bouquet better than the image of the bouquet I sent you.  I'm not a fan of bouquets with different flowers in it, but I loved my maids' bouquets!  The colors matched perfectly.  Thank you so much for everything and you did to have our special day run so smoothly, yet be so perfect (with such a large group!).  I heard from some guests that when the taxis pulled up to the parking lot, a lot of people just gasped at the beauty of the setting =)  Your preparation of the rum punch was delicious too!  I will definitely recommend you to anyone interested in having a destination wedding in St. Thomas.  As John mentioned, we will be sending you a little token of our gratitude in the mail.  Thank you SO much once again.  You really are awesome at what you do!  Have a very Merry Christmas and a Happy New Year!