Our Thoughts
From wedding invitations to facebook banners and thank you cards, FotoJet is a one-stop-shop for all of your photo design needs. With a plethora of templates to get you started, fotojet makes DIY wedding invitations very easy to create! Fotojet is great for a creative bride on a budget as you can print your designs on any paper you choose right from your own printer! This is a great way to test out a few different options and see them as hard copies before blindly ordering a ton of invitations that may look different once printed. The best part about Fotojet is that you can save your work to your computer and send them out as E-Invites and E-Thank You cards which can help you save a TON of money on your wedding, especially since the membership is free! There is an option to upgrade to a premium membership which unlocks a few other templates, clipart and stock images to help build the invitations, thank you cards or Instagram posts of your dreams! We took the time to play around with the site and came up with a few inspiration images to get those creative DIY juices flowing!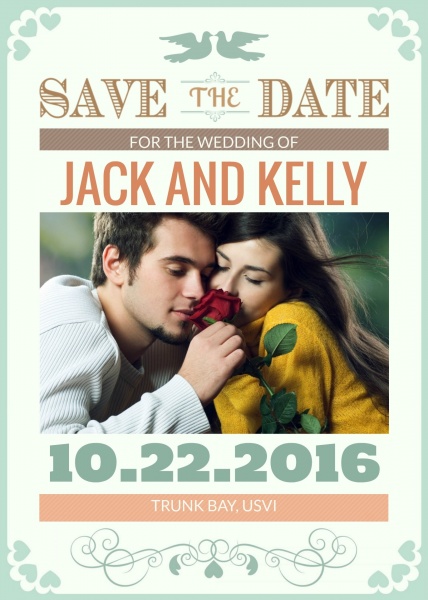 Creating a Save The Date wedding invitation on Fotojet is as simple as uploading a few photos, choosing a template, drag and dropping the photo you would like to use and then simply customizing the text to reflect your wedding details! There is also an option to start with a blank template if you are feeling very ambitious and creative! On the sidebar, you will find a ton of clipart, shapes and text options to make your save the date cards as special as your romance!
In the age of social media, it is easy to announce your wedding plans or share your photos using some templates on fotojet to capture the moment! Fotojet provides so many templates to make all of your photos "Instagram Worthy" :] Add your favorite quote or use one of the stock clip art quotes to add a splash of creativity to your wedding photos. You can even create custom facebook banners and mix and match a bunch of your photos to showcase your special day!
You can use a filter and play with the colors of text and clipart to make that template your own! Fotojet has a photo editing option where you can choose a filter or manually play with the brightness, contrast, saturation, etc. of your photo to create really unique photos and invitations! There are also options to easily crop photos and move them into the position that you want with ease. You can move certain elements behind or in front of each other and you can easily change the color and the style of the font to reflect your personality. The great thing about fotojet is that you can print it out, look it over for any spelling mistakes and go back in and change it instantly before you accidentally purchase a hundred of them with your fiance's name spelled wrong, oops!
CONCLUSION
In conclusion, we think that fotojet is a fantastic tool for any creative bride to use to create her own wedding memorabilia, invitations and thank you cards! It is very user-friendly and so easy to use that even a beginner and self-proclaimed "non-artist" could use it! There are plenty of templates and options to play with even on a free membership that we recommend giving it a try! You can use fotojet to save money on your wedding and to just have fun with. Even if you do not use fotojet for your invitations or thank you cards, you can still create images with your favorite quotes to capture the essence of your dream wedding. With such ease of use and the ability to change any element that you want, fotojet is a fabulous tool for everyone!