Lots of people continue to ask me how they can help the Virgin Islands. To be completely honest, cash is the best way to help at this point. Restaurants, stores, businesses are open. Sending someone a box of bug spray and dry goods is nice, but if they have the cash to go and buy these items at the store, more people benefit from this transaction. Someone posted in a local VI Facebook group that they had an entire container full of donated items but it was going to cost $4,000 to get this container to the islands. Just think if the cash that was used to buy these items plus the cash that was used to ship these items, was cash that was given to those in need to go out and buy the items they actually need, not just items that people in the mainland think they need. Boxes of batteries, mosquitos nets and rice really only go so far. And unfortunately, a lot of these mailed in donations are just sitting in storage.
It's hard to know how to get cash to the people though, what organizations are handing out cold hard cash to those that need money? None. So what can be done to help other than just sending in a tangible donation?
Let me tell you….shopping with local Virgin Island small business owners. Give someone your business and in turn, they are able to give their business to others. Simple commerce is needed to help people get back up on their feet. Many of these businesses are also doing what they can to give back to the community by giving part of their profits to local organizations. By supporting local businesses, you're giving profit to small business owners, who can then afford to pay their rents, purchase items they need at local stores, bring commerce back into the community. It creates a nice snowball effect, benefiting more than just the business you are supporting.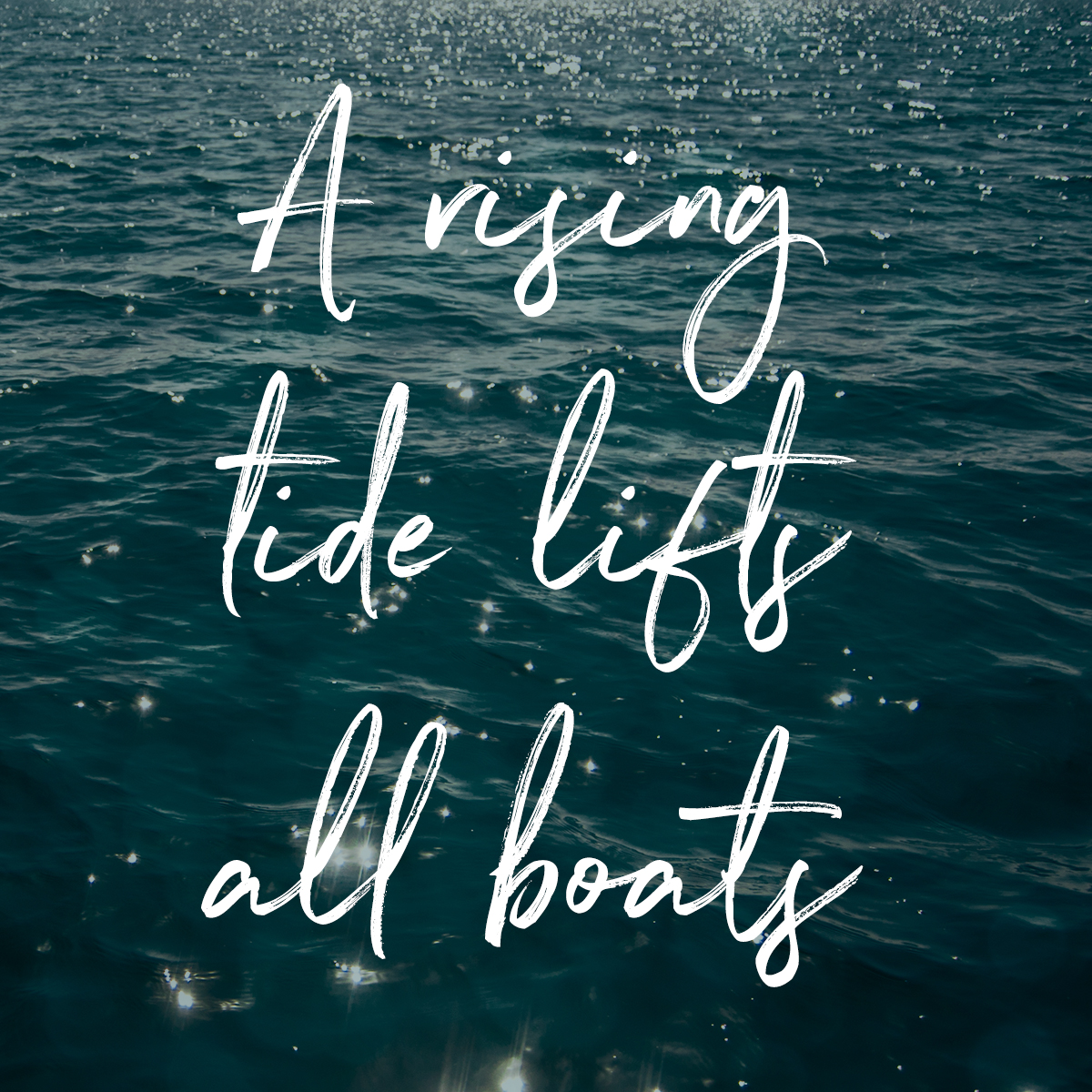 This may just be my new favorite quote. "A rising tide lifts all boats"…nothing could be truer or more beautifully said for our islands.
People really don't want handouts. They want to work. They want to earn. They want to feel a sense of purpose again.
I've compiled a list of businesses I have found that are promoting items for hurricane relief efforts. I call it "Give & Get Back". You purchase something from one of these shops and you receive something wonderful by also giving to the VI community.
The holidays are approaching and it's time to start shopping for gifts. Grandma doesn't need another sweater. Please consider starting your holiday shopping here. Truly this is a gift that keeps giving!
One of the funniest people I have ever met, Jen, is owner of The Wandering Artist. She has made a special hurricane series called CATatonic and In the Eye of the Hurricane. She is giving 35% of her sales to the Community Foundation of the Virgin Islands. This piece is something I've wanted to buy for myself but well, you know, times are tough post-hurricanes. : (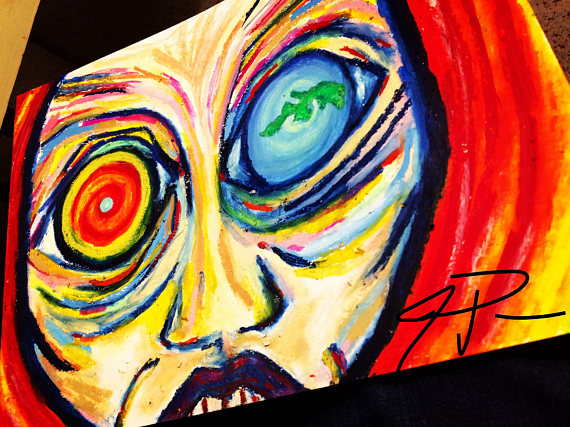 And I am simply in awe with the collaboration between Isola Bella and Ranifly Bikini! Using the gorgeous watercolor prints made by Isola Bella, Ranifly is creating the most magical VI bikinis! Ranifly is located in Hawaii (island sisters!) but proceeds are going to the VI Hurricane Relief fund. Gina is the owner of Isola Bella and is based on St. Thomas. Check out her website for beautiful art, jewelry, kitchen towels, bags, pottery and more!
Some of Gina's awesome work:
Girls on Rocks is another Etsy shop you must check out.  Their stores is stocked with awesome modern jewelry and clothing and 50% of their sales go to USVI Hurricane Relief. These koozies would make great stocking stuffers!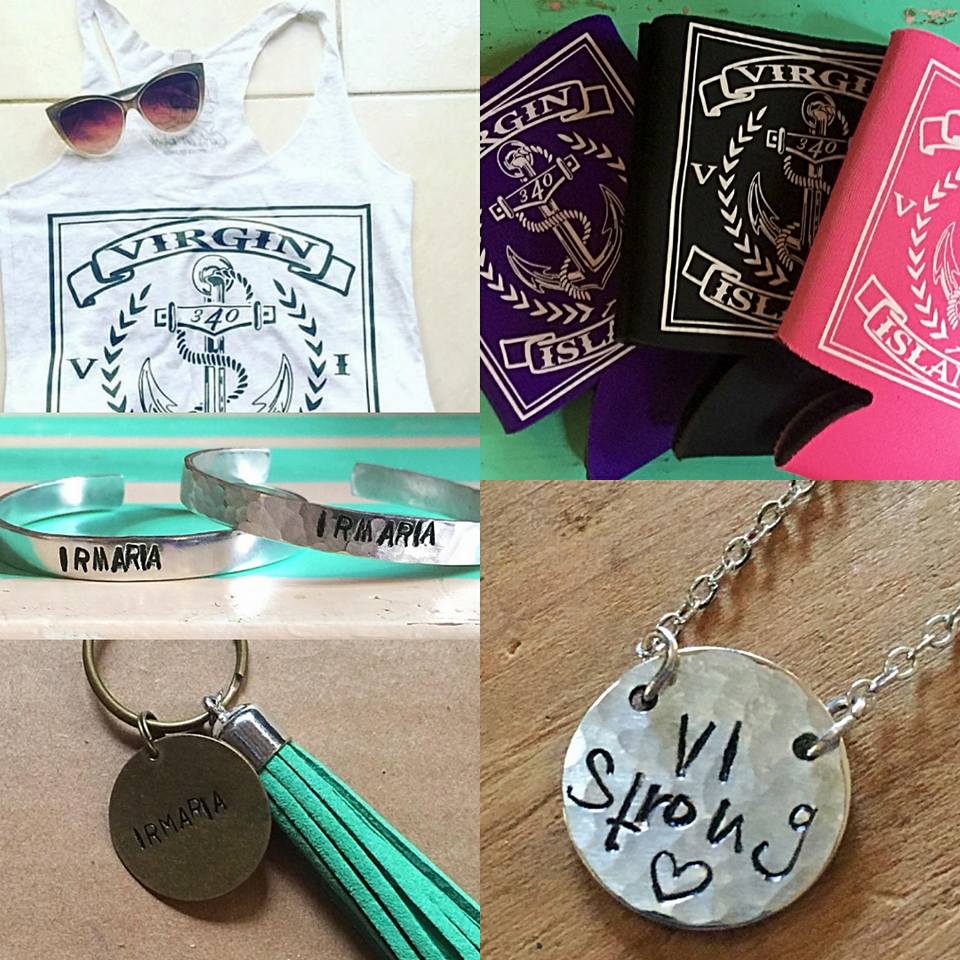 They have a 340 necklace that is calling my name. Get it? "Calling" my name? If you know 340 then you know. ; )
By Lisa Art is raising money for St. John Animal Care Clinic. Her shop has awesome jewelry and original paintings. This mermaid painting is perfect for the mermaids in your life, and I know you have a few.
I found out about St. John Organics Hurricane Relief candle this morning while cruising around Instagram. All proceeds are going to benefit three different organizations: The St John Community Foundation, St John Rescue, Animal Care Center of St John. This is definitely at the top of my gift giving list this year. PS this photo was shot on Trunk Bay by Yelena Rogers Photography ::insert heart emoji here::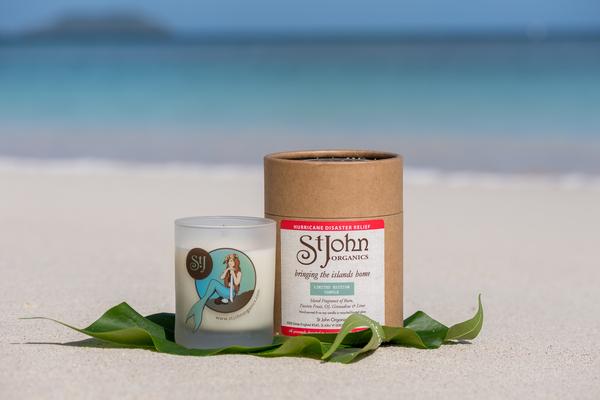 Another great fundraiser to benefit St. John is Kenny Chesney's Love for Love City campaign. Is there a country music fan in your life? This would be the perfect gift this holiday season. All proceeds will be given to those in need. Kenny has a huge heart for these islands and has had "boots on the ground" helping.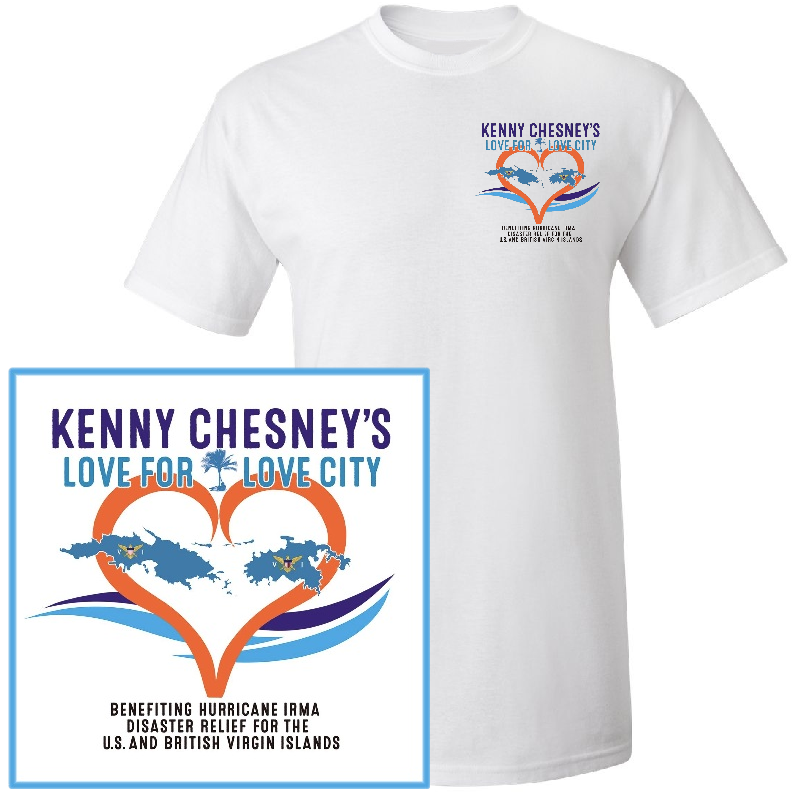 Caribbean Paddle Co. is also selling t-shirts, sweatshirts and long sleeve t-shirts (something for every season!) to benefit those in need. Check it out here.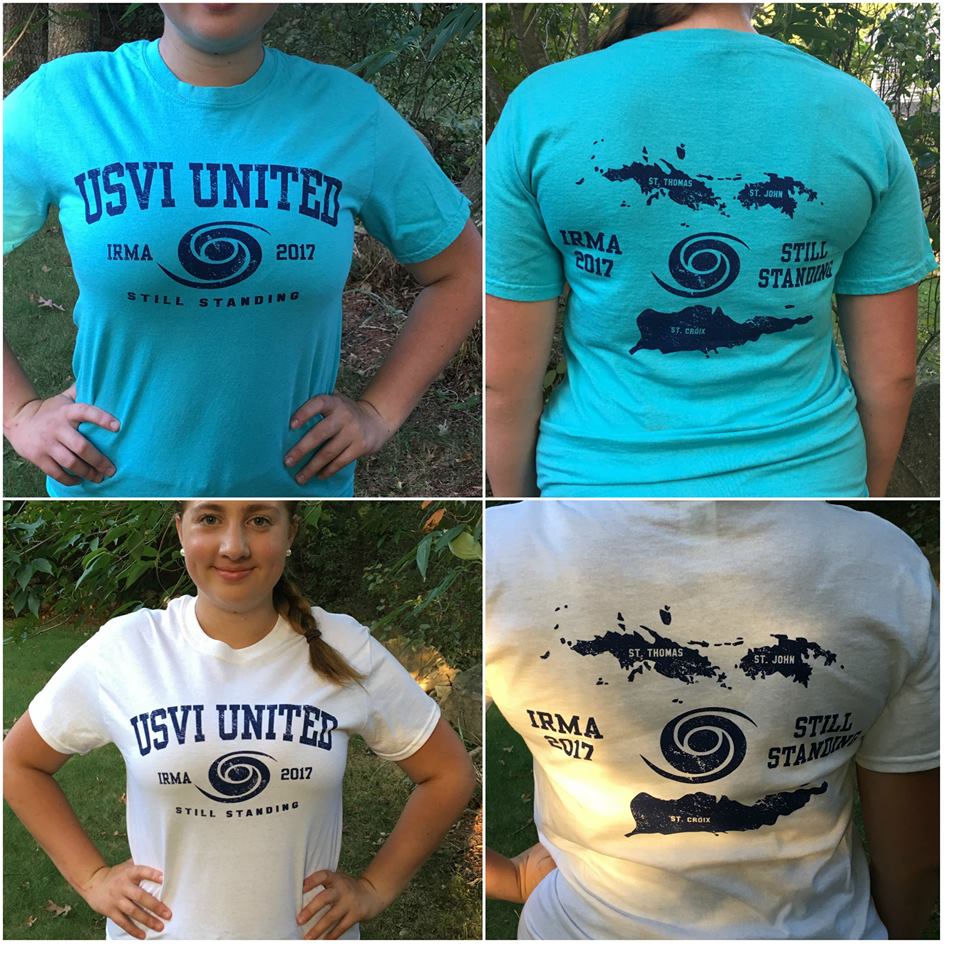 And along the same idea of clothing and famous people, Rapt Apparel created the #VIStronger collection for hurricane relief efforts. Proceeds of the sales are of this collection are being donated to the Tim Duncan Foundation. Tim Duncan is another celebrity with a strong love of the islands and has also been on island to help. Check out this awesome collection here. Leggings…I mean come on…everyone woman needs these. I'm a medium in case you're shopping for me.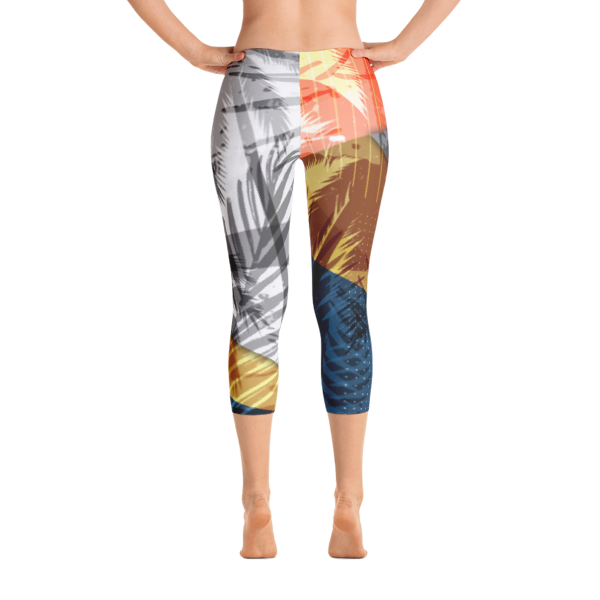 Clothing not really something you want to give as a gift (you can still get me those leggings tho), what about hats? This Etsy shop, Kingdom Creations Tees, has all kinds of t-shirts and sweatshirts that will benefit the Community Foundation of the VI, but they also have these hats that are sure to please any dude in your life. PS My husband bought a t-shirt from this company. It's a really great shirt and he loves it. I didn't know he had bought it and was super excited to see it in the mail…until I realized there was only 1 shirt inside. He didn't get me one or one for the kids. Don't be my husband, buy for your loved ones too! ; )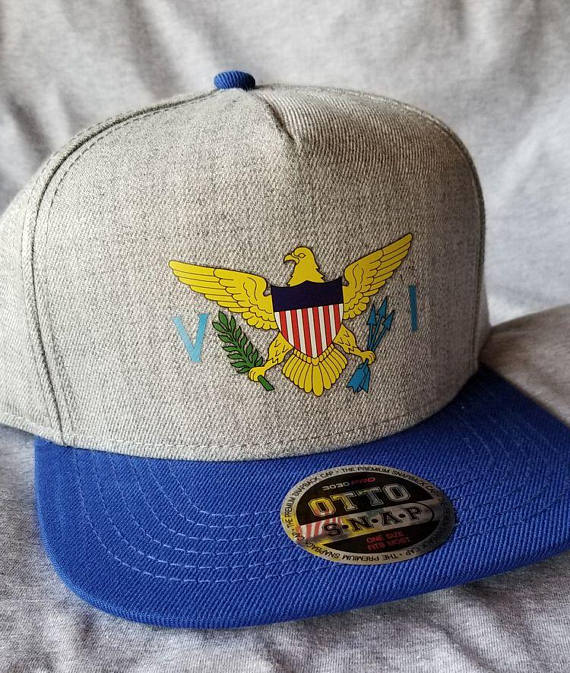 I'm also a fan of these bling-worthy tops they have…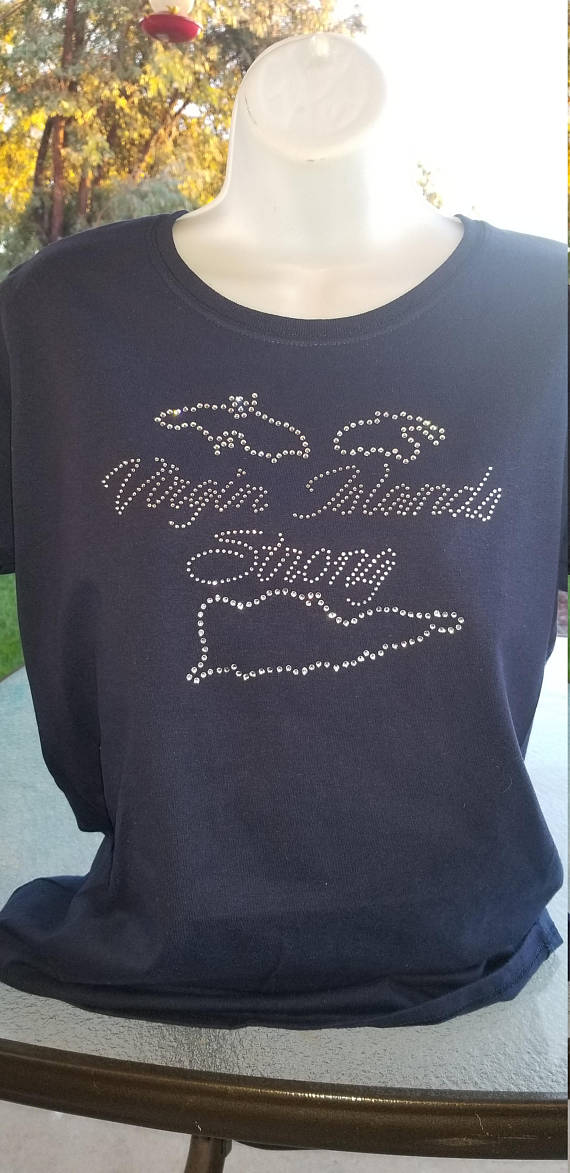 Last but not least, are you still shopping for holiday cards? Your purchase from VIVA 4 Children helps supply VI foster parents with supplies, such as ice and generators. These holiday cards are designed by local VI children. Check them out at www.viva4children.org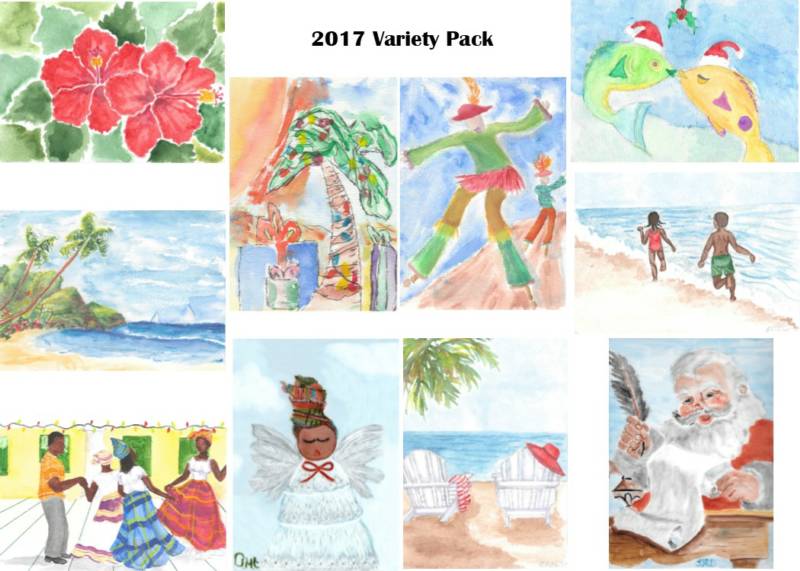 I will continue to update the blog as I find more small businesses working and trying to give back. I also update our Instagram page, check it out: Islandblissweddings  If you know of a Virgin Island company (or even stateside company!) that is running a promotion to benefit the VI, please let me know! You can email me at Janelle@islandblissweddings.com
Disclaimer: none of the above companies paid to be featured on our blog and I did not receive any products or benefits for promoting them. I just generally feel that by shopping with these or any local VI company, you are doing far more to benefit the islands than donating tangible goods or to organizations that collect money but have yet to do anything to really benefit those in need.