I wanted to share wit you our holiday cards this year. I had to scan it and the quality is pretty poor but you can get the idea. 😉
I had the photo shoot done by Steve Simonsen (who also did video for one of our weddings earlier this month – can't wait to see it!). Steve does amazing underwater work, it's so beautiful! Underwater photographer is a new rage in destination weddings. Check out these shots from Blue Glass Photography:
Definitely consider booking an underwater shoot after the wedding day – you'll love the images!
We received many beautiful holiday cards this year from our brides & grooms! On January 1st, we will be choosing a winner for this little gem: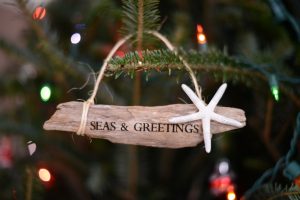 You still have time to enter!