This was really pretty exciting! We have always offered helicopter wedding packages but never really advertised them. We finally have them up on our website and not surprisingly, they have been very popular. What a fun & different way to celebrate your day together! John & Kip were our most recent helicopter bride & groom.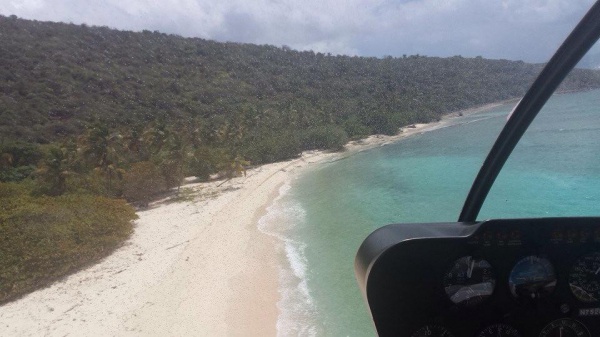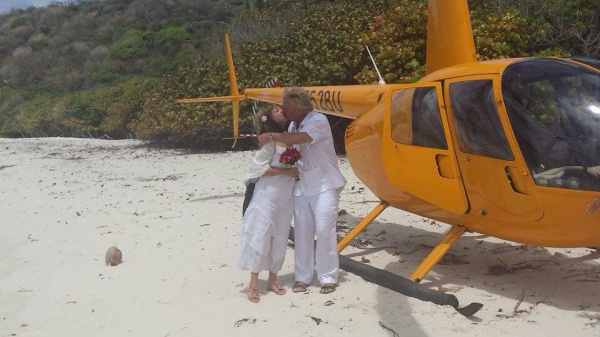 John & Kip were just the sweetest couple to work with. They recently left testimonials on our Facebook page. From Kip:
Our Deserted Island Elopement Wedding this past Wednesday was like something out of a Hollywood  movie.  There are no words to describe the breathtaking beauty of the island's tropical setting, as we stood barefoot in the sand saying our vows.  Stu personalized our ceremony as if he'd known us all our lives, and we will never forget a moment of our marriage.  The flower bouquet, the boutonniere for John  and the bottle of champagne were a lovely touch as well. (Not to mention the fun helicopter ride over St. Thomas on the way!)
From John (get out your tissues!):
On Wednesday, May 14, a full moon, I married my sweetheart, my lover, my best friend, on a deserted sandy beach with only an officiate to guide us through the heartfelt ceremony, and witness our eternal vows to each other, while we scrunched our toes in the sand and the breaking surf. I am so blessed to find her at this time in my life, and she has so wonderfully committed herself to me. I love her more than anything in this world, and will keep her and cherish for ever. Just as the day was perfect and beautiful, Kip was a perfectly beautiful bride.
Thank you, Stuart and Janelle, for making our special day the most wonderful day of our lives!  Stuart, your heartfelt rendering of the ceremony made it personal and cherished for us for ever.
Weddings like this truly are a part of what makes my job so amazing! I'm so happy for you two and Kip, you looked absolutely BEAUTIFUL!! Congrats again!!