Photos & Video from Destination Island Weddings
Janelle Scott of Island Bliss Weddings has helped countless clients create the most fabulous of island weddings. With her background in design, she finds nothing more exciting than helping a bride bring her ideas to life. Check out our features on Style Me Pretty:
Click here to see a beautiful event at Sand Dollar Estate, St. Thomas and this gorgeous wedding at Trunk Bay, St. John.

Sand Dollar: Erin and Jarrod from Nazareth Road Productions on Vimeo.

Adair was married on Lindquist Beach, St. Thomas on 1/31/15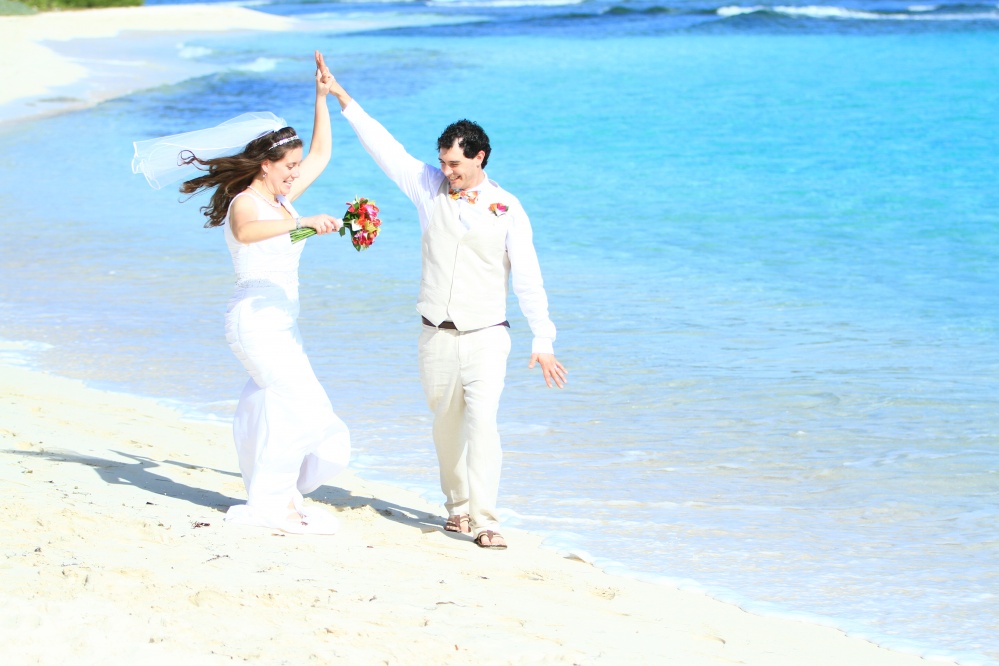 My husband and I got married in January 2015 on Lindquist Beach, St. Thomas. We worked with Island Bliss Weddings to plan our big day. Janelle was wonderful to work with! It can be difficult planning a wedding from far away, but Janelle was responsive and helped coordinate everything. The day went flawlessly and although I did not see the ceremony location before I walked down the isle, I was blown away at how perfect it all was! Everything we had planned was exactly as we had hoped. The bouquet, the cake, the videographer, the photographer, the seating, and all the other little details came together so absolutely perfectly. Janelle made that day as low stress for me as it could be so the only thing I had to think about was walking down that isle. My husband and I wished we could live that day over and over! I can't say enough about Janelle and Island Bliss Weddings. I highly recommend them and would do it all over again in a heartbeat with them!
Janaya and Noah were married on Lindquist Beach, St. Thomas on 4/19/15
We decided to get married in St. Thomas and when reviewing all the other wedding planners Janelle had the best reviews. I had emailed various wedding planners and talked to quite a few on the phone and to be honest I went with Janelle because she was the only one that responded the next day with all my questions answered, no fluff or "we will need to talk further about this on the phone." For me due to work and the time difference, email is the best way to communicate and Janelle was always on top of my questions. We live in Tucson, AZ and we were going to be on a cruise with about 25 guests; Janelle and her team assisted with transportation, the reception, and getting in contact with someone for the decorations. Her team even helped us with getting our friend licensed in St. Thomas so she could officiate our wedding. I was not really nervous throughout this whole process and then when we got to St. Thomas and her husband, Stuart (who is a rock-star) picked us up and looked at me and said, "your pretty quiet and calm for a bride, are you nervous?" and I responded, "well I have never met or even talked to Janelle on the phone and this is the day it all happens so I am not going to freak out now." It nearly brings me to tears when I reflect on our special day, everything was absolutely perfect; from the time we arrived at the beach, to seeing my future husband stand along the panoramic ocean scene, to hearing my best-friend say "I now pronounce you husband and wife," to seeing the beautiful arrangement and set-up at Sunset Grille for our reception we could not have been more blessed to have Janelle and her team assist us with all of this. Janelle we cannot express how grateful we are to you and your amazing team. I may have never met or spoken with you but you will always be in our hearts as giving us the most epic, beach, bikini wedding in St. Thomas!!! All of our blessings.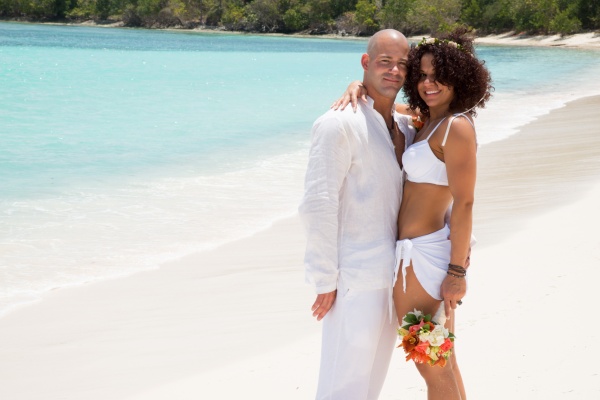 Samantha & Arie married on Lindquist Beach, St. Thomas 2/27/13 captured by Elisha Orin Photography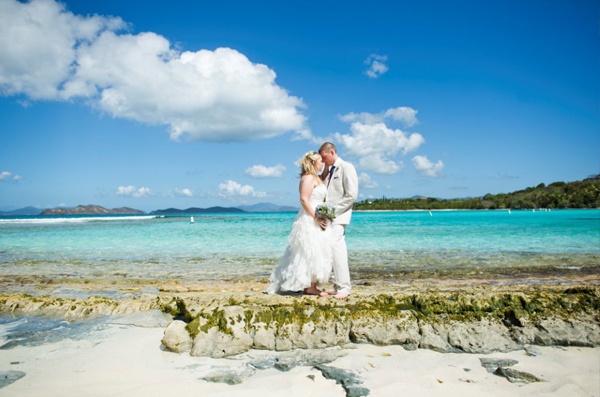 I just wanted to thank you so much for all of your hard work, planning, and time spent on making our wedding day the most perfect day! Everything was fantastic and our guests were so in awe of the beach – as were we! Elisha was amazing and our photos turned out incredible so thank you for the suggestion. Arie was very impressed with Stu and our guests commented that it was like he was a part of our family. The ceremony couldn't have been more perfect! When anyone has asked how our wedding was, my first response has always been "perfect!" I will most certainly try to convince everyone I know to get married on the island, and you can be sure we will suggest you 🙂 Thanks again, Janelle! Good luck in the future, and hopefully our paths will cross again someday!
---
Karissa and Nathaniel  married on Trunk Bay, St. John 8/4/13 captured by Megan Biggs Photography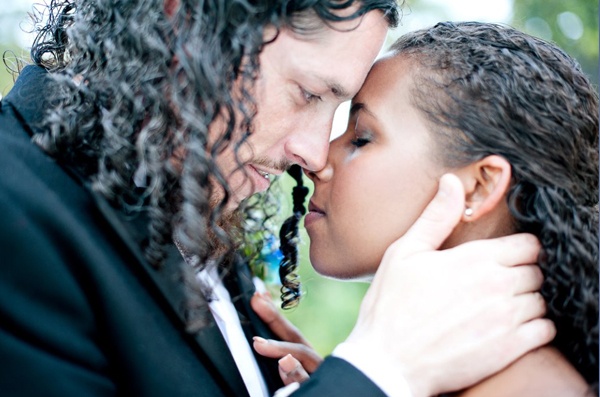 I cannot say thank you enough for the amazing ceremony and reception you put together for us! It all was amazing and exactly what I had imagined!! We are so incredibly thankful to you and your amazing team for pulling this all off, especially with me being so under the weather the day before. Nathan said he would love to be in your blog and have you write a little about our wedding. 🙂 He absolutely fell in love with Stuart and basically talked about him the whole next day! haha. just got back from our honeymoon this weekend and it has been super slow-going trying to get back into the routine here. I am just so sad that we had to leave and we are already planning our next vacation out to the islands with our families. Everyone had such a blast!
---
Melissa & Greg  married at Villa Botanica, St. Thomas 6/4/13 captured by Elisha Orin Photography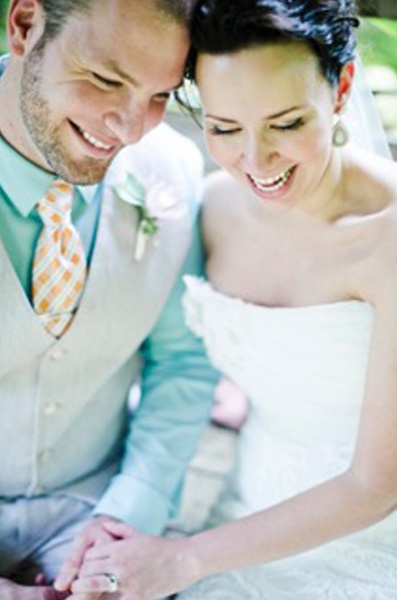 I just received the photos of your wedding from Elisha and I wanted to properly thank you for EVERYTHING!!  Every table setting, monkey knot, and sea horse was arranged beautifully!! You made the day flow so smoothly, thank you for all of your hard work behind the dreamy day! Both you and Scott made the day better than I had ever dreamed. Honestly if felt like a beautiful dream!!  Please extend this warm hearted thank you to your husband, as he truly has a gift and a genuine presence about him that is inspiring and comforting to be around. We honestly can't run out of wonderful things to say about the ceremony and how you pulled everything together.
---
Emily & Michael marred on Hawksnest Beach, St. John on 3/9/13 captured by Blue Glass Photography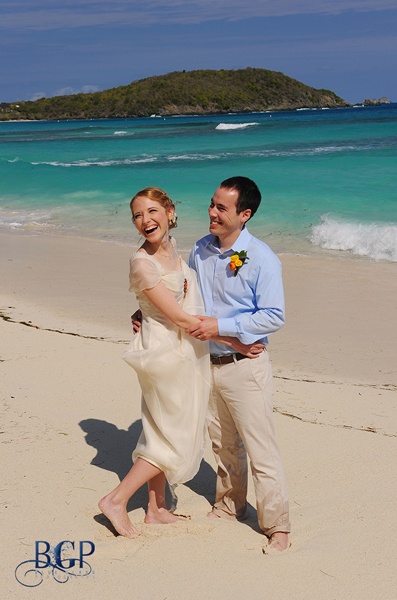 Mike and I wanted to pass on our sincere thanks to you for doing all the behind the scenes work of putting our intimate ceremony together. It was absolutely lovely and I couldn't imagine getting married any other way. After the fact I exclaimed to Mike that in the whole 14 months we'd been engaged my absolute favorite moment of wedding planning was sitting in our room listening to the sounds of the waves crashing on shore as we pieced together our vows. With all the stress, frustration, and tears that planning our "big" wedding was it was so refreshing and wonderfully special to have the start of our married life together center on our relationship and be so relaxed. We felt so taken care of in the planning process and every day-of-detail was lovely. Thank you thank you!! Thank you also to Stuart who made the ceremony personal and memorable. What a great team! We loved St. John and will definitely be returning. It was the perfect place for our elopement and honeymoon. Attached are the photographs Alain has sent so far- stunning! My favorite is definitely Mike and I laughing.
---
Krystal & Jamie married on St. Thomas 10/11/12, captured by Blue Glass Photography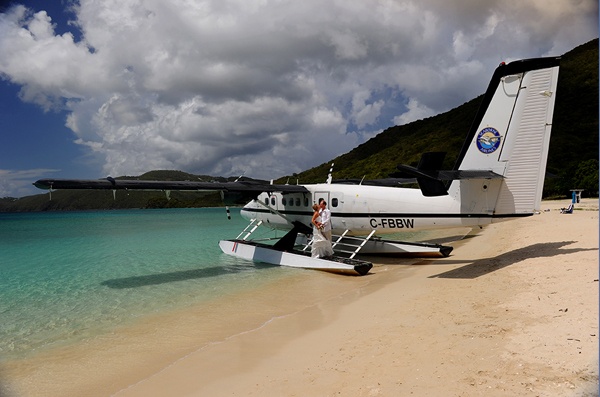 You really have to tune into The Bachelor on ABC on Monday, Feb 11. Seaborne Airlines is part of the show flying the Bachelor and his ladies in the seaplane to St. Croix. How cool that we had the seaplane on our wedding day! Pretty fabulous idea right!? 🙂 Honestly we cannot thank you enough for all your help with our 10.11.12 wedding. I know the seaplane was a first for you and I am so glad we had that and the video to capture it all! When I tell people of our wedding in St. Thomas, I can't help but know you made it so easy and flawless. Honestly I get teary-eyed reminiscing of our trip to St. Thomas and our wedding and the awesome reception we had when we returned home. We were able to share our day with the DVD, allowing all our friends and family be part of our day, (none being invited with us to St. Thomas). Yes we wore our wedding attire to our reception!  How many brides get to wear their dress twice???? Again, thank you, ThANk YoU, THANK YOU!!!!!
---
Michael & Lauren were married on 3/14/15 captured by Blue Glass Photography
We chose Island Bliss Weddings to help us plan our destination wedding in St. Thomas.  We wanted a fairly private beach location.  Janelle suggested Lime Tree Beach which was perfect for our group of 47.  It was so beautiful!  Janelle guided us through all the planning decisions.  Her husband, Stuart, conducted the ceremony and it was absolutely perfect!  He made it personal and fun to fit us.  We were very pleased with the photographer – Alain with Blue Glass and with the videographer – Andrew with Nazareth Road!  We told Janelle our colors and the flowers she had waiting for us were gorgeous! The guests all commented on how wonderful everything was, and they certainly enjoyed the rum punch Janelle had for them after the ceremony.  March 14, 2015 was the perfect beginning for the rest of our lives together!  Thank you Janelle and Stuart!