There are a million different ways to get married in the Virgin Islands. It's our job to help your dream become a reality. Many brides, however, aren't exactly sure what they are looking for in the beginning stages of planning. That's quite alright too. Below are some suggestions of popular wedding options. Please email us with the vision of your perfect day and together we can shape your wedding day into the magical dream you envision.
---
A Villa Wedding
What could be more intimate than hosting your reception at your own personal villa? Imagine sitting by your private pool surrounded by candles as your guests dine on  exquisite island cuisine prepared by your own personal chef. Or dine banquet style inside a professionally decorated dining room. The cost of such a wedding will vary depending on the villa you chose, how many guests will be in attendance, the menu for the evening, level of decor needed, etc.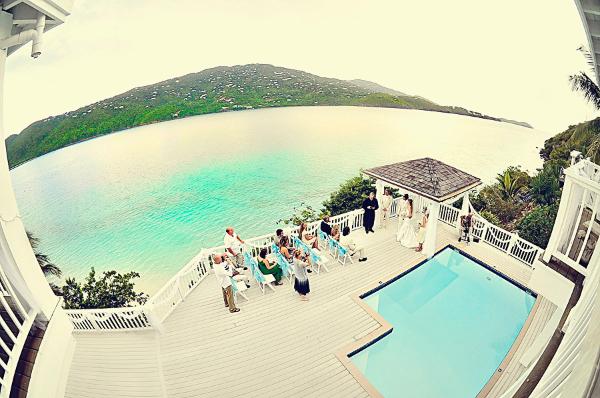 ---
A Beach Wedding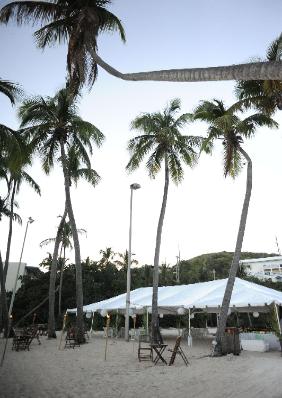 For a tropical beach fiesta, consider renting a pavilion at Magen's Beach. We can cater your reception right there with rum punch, champagne and cheeseburgers in paradise! Or a grilled mahi-mahi to give it a more tropical flare. Have your guests kick of their shoes, enjoy the beach and celebrate with a true beach party.
For the more formal wedding, slip-covered chairs with colorful bows lined up facing a Caribbean sunset can not be beat. A decorated aisle of shells and local flowers will truly add even more beauty to a gorgeous setting. Afterwards, whisk your guests away to a formal dinner and a night of dancing at one of the islands most romantic restaurants.
---
A Garden Wedding
A garden setting is a great way to avoid sandy shoes, if that's not your thing! There are many options on the island – St. Peter's Greathouse can lend itself to a festive ball overlooking expansive down island views or try the lawn in front of Oceana's beautiful restaurant, right next to the ocean's edge. Villa Botanica offers an upscale guest house for the bride and groom to get ready and manicured lawns for a relaxing and intimate reception.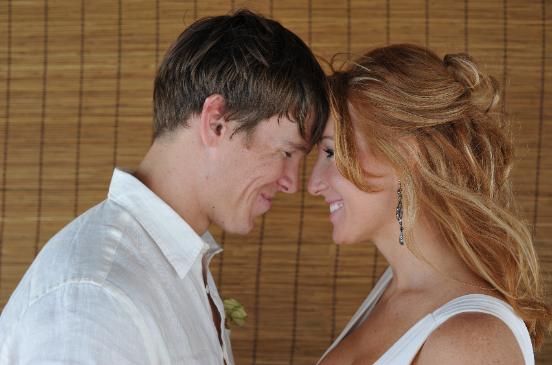 ---
A Sailboat Wedding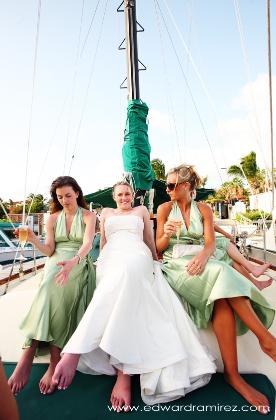 Sail away on a full or 1/2 day adventure with just the two of your or with up to 80 of your nearest and dearest. Be adventurous on a sailboat
or posh on a luxury yacht. Many boats can take you to a private beach on another island for a private ceremony. Have your guests dress casually and take advantage of the included snorkel equipment. Make it light with drinks and hors d oeuvres or have a full sit down gourmet meal.
This option is also avialable for a sunset cocktial cruise or even full dinner on the boat. There are many different tour companies here on the
island that we will help you navigate through to find the one that best suits your needs.
---
A "Just the Two of Us" Wedding
When a bride and groom elope, the possibilities are absolutely endless. Consider a
helicopter ride to a private beach on a deserted island. Or sail away and say "I do" on
a sunset cruise. Imagine chartering a boat for a week, getting married on board or a
sandy beach and enjoying the rest of your honeymoon sailing around the US and
British Virgin Islands with your own captain and chef!